Surgical Scissor Sharpening

MASTER CRAFTSMEN SHARPEN SURGICAL SCISSORS WITH THE HIGHEST QUALITY SHARPENING TECHNIQUES

Complete Reconditioning Includes:
Disassemble and Inspect Shear
Thoroughly Clean and Disinfect
Restore Original Factory Blade Set
Sharpen Shear to a Razor Edge
Check and Adjust Tips and Tension


ALL TYPES SURGICAL SCISSOR BLADES SHARPENED

EXCLUSIVE RAZOR ICE EDGE
Razor Sharp Blades Dipped in Ice Cold Liquid for the Sharpest Edge Ever!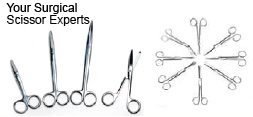 Try GroomTech's Expert Professional Surgical Scissor Sharpening. Master Craftsmen Use the Newest Equipment and the Finest Hand Sharpening Techniques for the Sharpest Edge.
SPECIALIZING IN SURGICAL SCISSOR SHARPENING FOR ALL STYLES IRIS-SUTURE-METZENBAUM DISSECTING-MAYO-NEEDLE HOLDERS