Grooming Dryer Repair Service
FIND US ON FACEBOOK FOR MORE SPECIALS!
GroomTech Services and Repairs all Grooming and Pet Dryers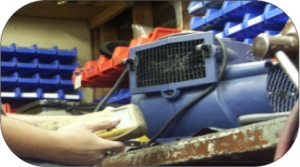 Call For Price
FOR IMMEDIATE SERVICE, SEND TO: GROOMTECH – 43136 RANCHO WAY SUITE D, TEMECULA, CALIFORNIA 92590
PREFER TO ORDER ON-LINE? CONTACT GROOMTECH FOR DETAILS!
1) E-MAIL: info@groomtech.com
2) PHONE: 1.800.648.4863.
3) TEXT: 1.619.246.9955
4) FAX: 1.877.885.7837
Your dryers will be repaired and ready to return within 24 hours of arriving in the GroomTech Service Center.
Groomtech has skilled professionals available to service all of your grooming dryers. We feature a professional service center which is equipped to repair all dryer models and brands, including: Edemco, Double K, Metro, K9, DriEaz, and X-Power.
Dryer repairs start at $39.99.
Parts are In Stock for Most Pet Grooming Dryers.