When it comes to repairing Pet Dryers, EXPERIENCE is the only way to go. Whether you have a blower dryer, stand dryer, cage dryer or another type, you can trust us. GroomTech has repaired thousands of dryers over the years, and we have seen just about every type of problem that there can be.

Blower Dryer
Blower dryers have become the most popular dryers in use today. They come in all shapes, sizes and colors, but certain things are always a part of this style dryer. They universally use motors with carbon brushes that wear down slowly, depending on use. These brushes must be replaced from time to time. And they all have hoses and nozzles to blow the water from the pets coat.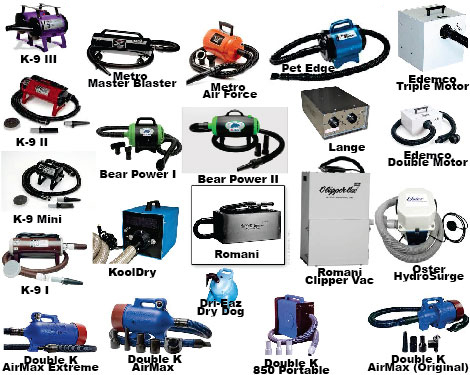 We clean your blower dryer to remove all hair, dirt and carbon particles. We check the brushes and switches for wear and replace them if necessary. Motor armatures are cleaned and smoothed. Carbon brushes are seated by using a special tool called a Variac. This promotes longer brush life and motor life. We inspect and change the filters, both internal and external. Finally we will carefully clean the exterior and wrap the power cord so that when your dryer is returned to you it is completely refurbished!

DRYER REPAIRS FOR DOUBLE K-EDEMCO-KOOLDRY-ROMANI-METRO BEAR-K~9-OSTER-LANGE-DRI~EAZ AND RAPID ELECTRIC MODELS